Course Venues


Euneos choice of venues is based on two essentials: delivering professionalism and assuring personal well-being in order to warrant enjoyable course experience.


Oulu, Finland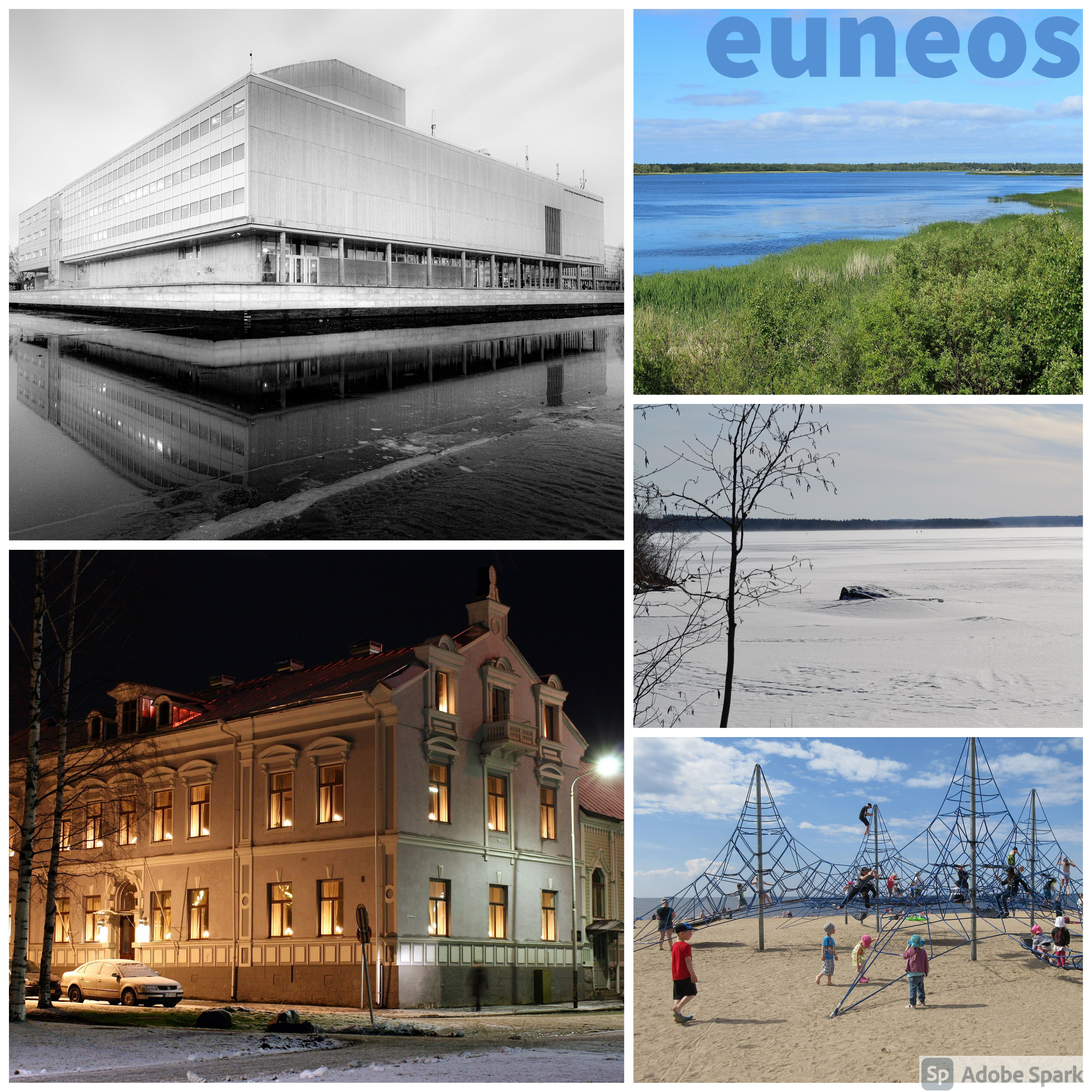 Description
Oulu is the leading city of education in Northern Finland and the innovative forerunner of new teaching philosophies. Oulu is also the leading Northern business hub, recognized especially for innovations in information technology. In Oulu region you can explore and experience the world-famous Finnish education system, visit cutting edge technology companies and customize your stay with Arctic nature experiences.
Course Venue
The course will take place at the Tietomaa Science Center, located at Nahkatehtaankatu 6, 90100 Oulu, Finland. It is the first science center in Finland, featuring more than 150 hands-on attractions and demonstrations within its themed exhibitions. It also includes a 3D theater, with a 153 square meters 3D screen which is second-largest screen in Finland. The local landmark is the Science Centre's 45-meter Tietomaa tower, takes you up 35 meters to the top floor in a glass-walled elevator with fabulous views over the city.
Accommodation
We recommend staying in the city center area or near the train station. It's a 10-15 min walk to Tietomaa Science Center from any hotel in these areas. Oulu is a small town and best experienced by walking around.
Modern, clean studios: Trendy Homes Oulu
Good value with breakfast included: Hotel Apollo
Some restaurants:
Ravintola Puistola (Finnish food
Connections
Oulu is easily accessible by plane even from afar. Oulu Airport is the second busiest in Finland and nearly fifteen flights from Helsinki arrive there on a daily basis. For example Norwegian and Finnair operate at the airport bringing customers safely to Oulu from elsewhere in Finland, neighbouring countries and further away. Check the flights with Norwegian and Finnair.
For travelers from closer areas, travelling by bus or train is ideal; you can get to Oulu from almost everywhere in Finland in a short period of time. The Oulu region is ideally covered with a rental car, while moving around in Oulu is convenient by bicycle or by local bus.
Local buses: Oulun joukkoliikenne
Parking: City of Oulu, Kivisydän
Chartered coaches: JS Matkat, Saaga Travel, V.Alamäki
There are many available connections and traveling options to Oulu from Helsinki, Tampere, Rovaniemi or other.
Catering options
You have your KA1 grant budget for your accommodation including meals. The Tietomaa Science Center has a cafeteria with snacks available during training days. The courses will include time for relaxing coffee breaks, tea and special moments for cultural exchange. You are welcome to share something from your country and culture.
To see...
Oulu is to be the European Capital of Culture 2026. Oulu is located in Northern Finland, North Ostrobothnia. Living in Oulu does not feel like living in a city because its unique arrangement intertwines nature within the city itself. By being the home of the University of Oulu, one of the largest universities in Finland, it is also the home of around 13 000 student from Finland and around the globe. While in Oulu, we recommend that you visit Nallikari Beach as the best place for spotting Aurora Borealis or the northern lights. Other attractions that you should not miss in Oulu include Ainolan Puisto, Toripolliisi statue, Oulu Cathedral, Oulu museums and much more. In less than a 3 hour drive you will reach Rovaniemi, also known as the official hometown of Santa Claus where you can meet Santa in person. We also recommend that you spend one night of your trip in the Snow Hotel or Igloo. It is definitely an unforgettable experience. Tervetuloa!